Highlights of Cross Disciplinary Learning
1. English Drama Education
It has multi-faceted functions across the curriculum at True Light. Inside classroom, drama on one hand is a pedagogy to create safe pseudo-real scenarios for students to use authentic language naturally in junior Drama lessons. On the other, it is a performance-based methodology to teach students creating, making and appreciating a classic story artistically in NSS Aesthetic Development classes. Outside classroom, drama is a collaborative art form to showcase students' knowledge learnt in end-term Drama showcases in junior forms, Princessologue presentations in S4 English SBA and ASD Drama showcases in S5. It is also an artistic tool to allow talented students to shine on the stage of the English Drama Fest, Hong Kong School Drama Festival, Hong Kong Speech Festival, True Light Joint School Improvisation Drama, etc.
2. STEAM Education
STEAM refers collectively to the academic disciplines of Science, Technology, Engineering, Arts and Mathematics. Under an integrated interdisciplinary approach, our students are to develop a strong knowledge base in step with the latest changes in these fields and strengthen their ability to integrate and apply the knowledge and skills so as to nurture their creativity and innovation, collaboration and problem-solving skills.
The Model of STEAM Education in our School: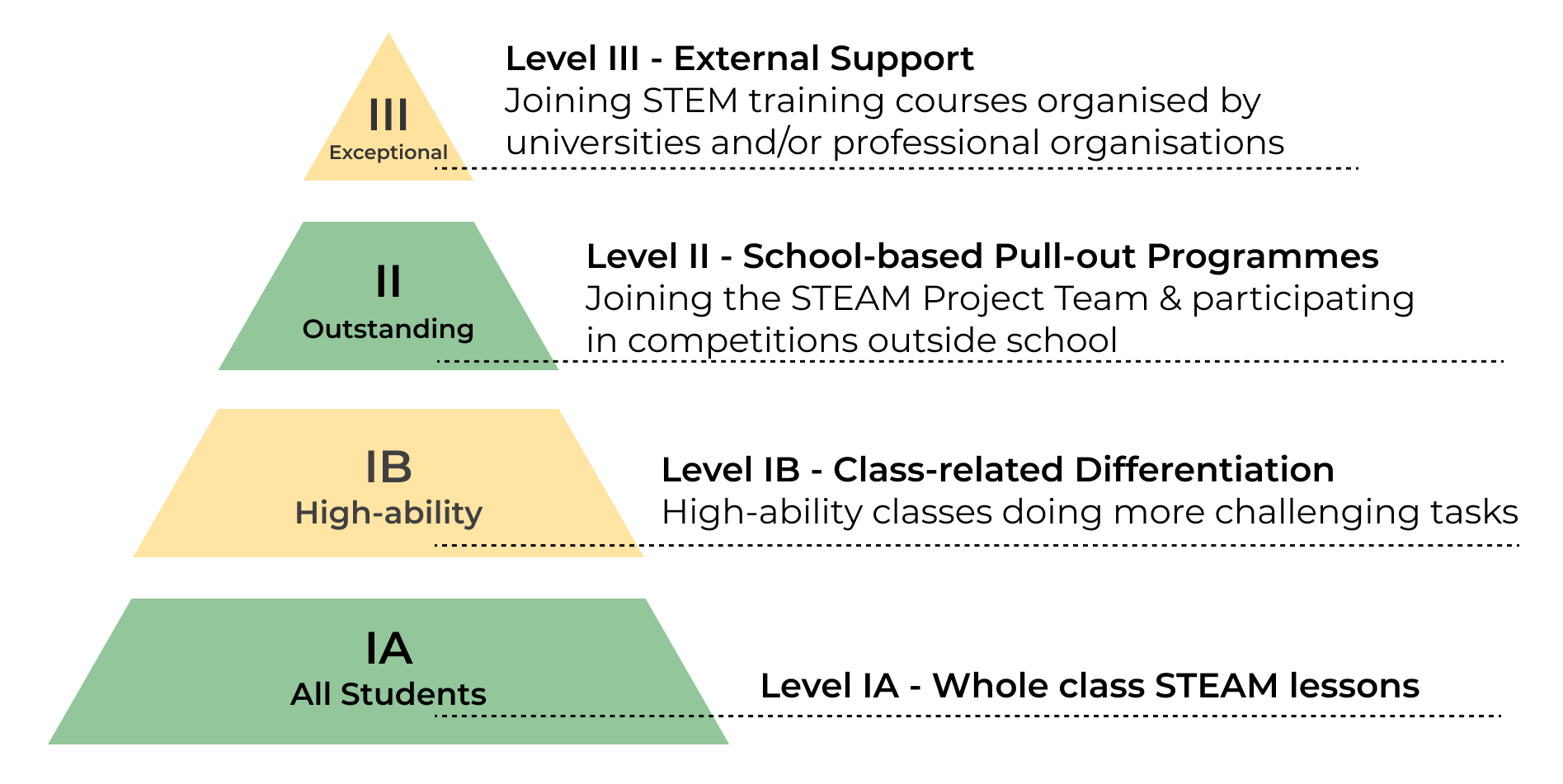 Whole class STEAM lessons in the form of a across subject curriculum – Science, Visual Arts and Computer Literacy in S2 have collaborated to launch a series of STEAM lessons under the LAMP Project. Students have learnt the concepts about current, voltage and resistance; tried out the circuit connection in Science lessons. Then, they have learnt coding the Arduino board and connecting the components in one circuit through Computer Literacy lessons. Finally, students have drawn the lamp case, decided the lighting sequence, and fixed all the parts into the lamp in the Visual Arts lessons. The Cross Disciplinary Learning provides a platform for students to integrate various learning experiences and skills for developing generic skills.
Life-wide Learning Activities
1. Aesthetic Festival
Aesthetic Festival is a big event in True Light which enhances the school's creative atmosphere. Different activities, such as an art exhibition, drama showcase, lunch art workshop, music show and food sharing, will be held during the festival.
2. English Week
English Week is to add spice to the English curriculum outside classroom on a particular theme every year. The four-day English Week starts off with classroom teaching, then extends the teaching in the form of an activity outside classroom, and eventually showcases students' compilation of knowledge on the stage as a performance on the last day.
3. Promoting Chinese History & Culture
"Moistening Things Silently" – Apart from classroom learning, getting our students involved in different extended activities about Chinese history and culture aims to broaden their horizons and deepen their understanding of the history and culture of our country. Through first-hand experience and direct participation, our students can reflect on the opportunities brought and appreciate and inherit the distinctive Chinese culture and national spirit.
Experiential learning workshops such as Chinese calligraphy, painting, papercutting, and grasshopper making are conducted. Our students' interest in learning the subjects is also aroused via historian talks, reading scheme, drama appreciation, students' good works, and historical & heritage tours in Hong Kong and in the Mainland.
4. Life-wide Learning Day
In order to provide students with more learning opportunities in real contexts and authentic settings and to enable them to achieve certain learning goals that are difficult to attain through classroom learning, a whole school "Life-wide Learning Day" of various themes of activities is organized every year. It is believed that through experiential learning, we can foster the whole person development of our students and help them develop life-long learning capabilities that are needed in our ever-changing world.
Themes of activities:
S1: Getting to know more about our community

S2: Engaging in STEAM activities

S3: Caring for our neighborhood

S4: Learning through serving

S5: Career exploration and skill development
Study Tours Outside Hong Kong
2022-2023
Geological Study Tour to the Unzen UNESCO Geopark, Japan
Citizenship and Social Development Huizhou Innovation and Technology Study Tour, China
True Light Joint-School MWS Toronto English Camp, Canada
Singapore Summer STEAM Tour
Asian and Oceanian High School Students' Forum in Wakayama Prefecture, Japan
2021-2022
On-line Exchange Program@TLMSHK & RDFZ XiShan School
True Light 150th Anniversary – HASSE Space School Virtual Program
2018-2019
True Light Joint-School Summer Study Tour to London, UK

MWS Toronto English Camp, Canada

Music Tour to Vienna, Austria

Geological Study Tour to the Oki Islands UNESCO Global Geopark, Yagage and Hiroshima, Japan

Hong Kong Exchange Programme to Singapore

Student exchange programme to RDFZ Xishan School (北京人大附中西山學校)

PSHE Study Tour to the Greater Bay Area
2017-2018
True Light Joint-School Summer Study Tour to London, UK

MWS Toronto English Camp, Canada

STEM and Science Experiential Learning Journey to Singapore

Student exchange programme to RDFZ Xishan School (北京人大附中西山學校)

Geological Study Tour to the Arxan UNESCO Global Geopark in Mongolia, China (中國蒙古阿爾山地質公園)

VR/AR Experiential Learning Summer Camp in Fujian, China

School visit to Guangzhou True Light Schools

Missionary Study Tour to Macao
2016-2017
True Light Joint-School Summer Study Tour to London, UK

MWS Toronto English Camp, Canada

Geological Study Tour to the four Japanese UNESCO Geoparks in Kagoshima, Shimabara, Aso & Itoigawa

Music Tour to Singapore

Music Tour to Vienna, Austria